ALL STUDENTS MUST USE THEIR AVUSD GOOGLE ACCOUNT TO LOGIN TO THE STUDENT PORTAL

Visit or contact your student's school site for information
on how to register for a Parent Portal Account or if you are having issues logging in.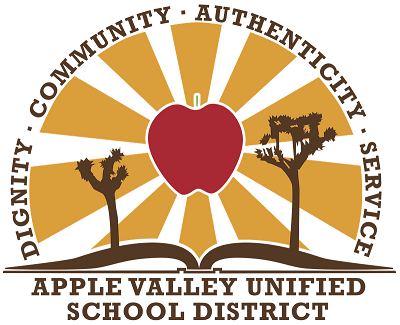 NOTICE:
Apple Valley Unified School District provides secure access for parents to information regarding their student via the AVUSD Aeries Parent Portal. There are unsanctioned third party applications that work once parents provide login data. AVUSD cannot verify the security or accuracy of any third party applications. Use these applications at your own risk.
Apple Valley Unified School District is committed to ensuring that all materials on this web site are accessible to students, staff, and the general public. If you experience difficulty with the accessibility of any pages or documents, please request materials in an alternate format by contacting
Our webmaster at webmaster@avusd.org or at 760-247-8001. For more information regarding our efforts in providing an accessible website, please visit
www.avusd.org/webaccessibility.
Thank you for your patience as we reconstruct sections of our site to be more accessible to all users.